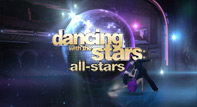 "Did you watch Dancing with the Stars last night?"  "Did you see who won American Idol?" These are questions I hear often from friends, co-workers, relatives, etc.
I don't watch DWTS or American Idol.  I don't get it.
I've seen a few minutes of each, as I've passed through the room, or on a news clip.  Yes the people are talented.  Yes they wear skimpy outfits.  But I don't understand the draw, and it seems I'm in the minority.  It seems like everyone talks about both these shows.
What is the attraction of these shows?  Do you watch either of them?  Why?
Related articles